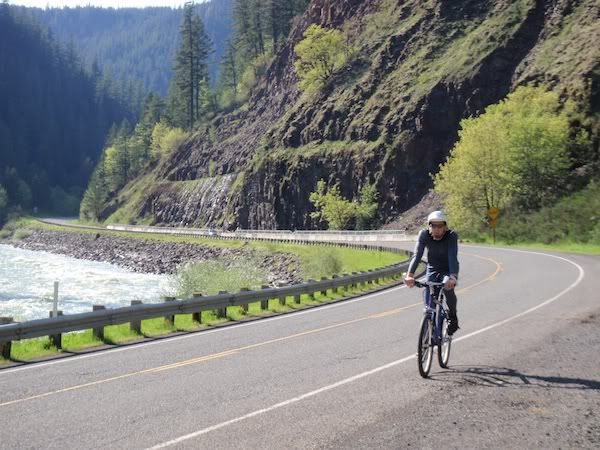 (Bike shuttle for a little kayak adventure with Julie.)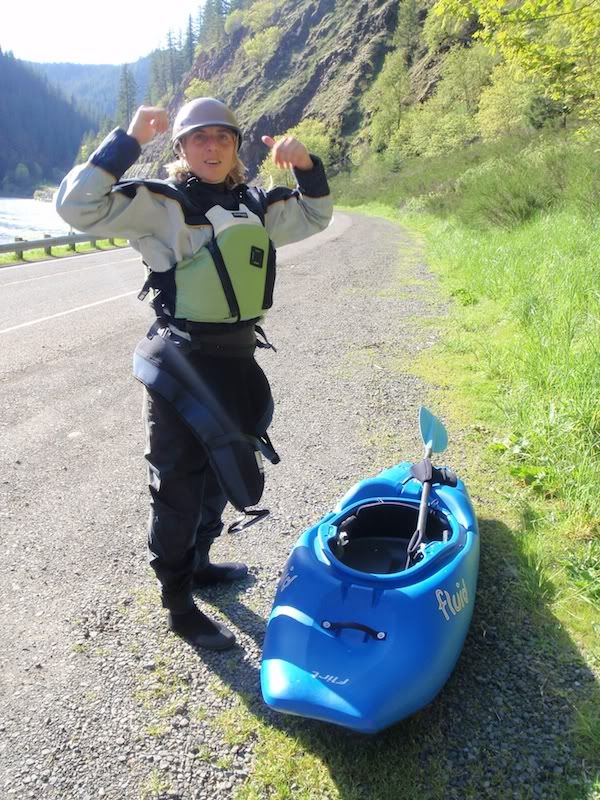 (Julie geared up and ready to tackle the rapids.  I might have decided for us to put on a bit too high a water level:)  The rapids decided to tackle her!  Everyone was fine though, as this stretch of water has very few hazards.)
It has been crazy hectic since we've been back in
PDX
.  Between working at Next, having tons of product clinics at Next, working at
Skagen
, and trying to settle into the apartment things have been busy!!!  We have managed to have some little adventures along the way:  checking out ice caves in WA, kayaking the Farmlands section of the White Salmon, biking the historic Rt. 30 between Hood River &
Mosier
, having drinks with our new neighbors, checking out the monthly Alberta Street art festival, trail running Hamilton mountain, watching the new X-Men movie,
playboating
the
Clackamas
river, checking out the Pearl District monthly art festival, and trying to just relax in our new home.
Julie
is now registered to attend the University of Portland, starting in June, to get a masters of arts teaching.  She is excited about school and the future, but has some big tests to make it through even before school starts.  She is studying hard everyday, and impresses me everyday with her dedication to learning the material.  She has also been out rock climbing at the local gym a few times as well as explored the local "cute" shops:)  
PDX
is know for their
dragon boating
on the
Willamette
river that flows through town.  Julie has joined one of the really competitive teams that train all year for international competitions.  Her first race is this
coming
weekend.
Julie and I are also trying to take getting in shape seriously.  I have decided to run 50 and 100 mile races this year and Julie has decided to run the Portland Marathon in October.  We are both going to start by running the Foot Traffic Flat 1/2, for Julie, and Marathon, for me, on July 4
th
here in Portland.  We are currently training hard for these events.  My 50 is July 25
th
and 100 Sept. 26
th
and both are on the Pacific Crest Trail.  We both have our work cut out for us!
(Julie and I both put in a strong effort to "run" the really steep trail to the top of this mountain on an amazingly
beautiful
day in the Gorge.)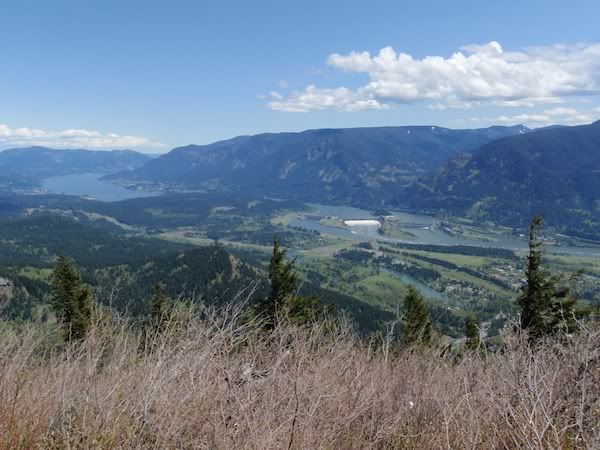 (The view from the summit of Hamilton Mt. was amazing.  This shot is taken looking east towards Bonneville Dam.)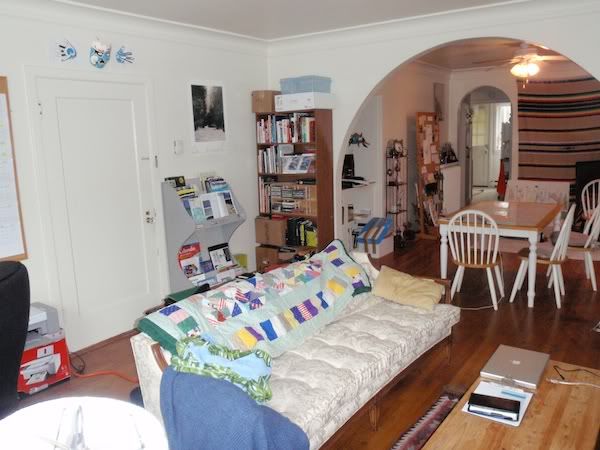 (Our apt. is still a work in progress, but it is slowly coming along.   This is the front door and living room area.)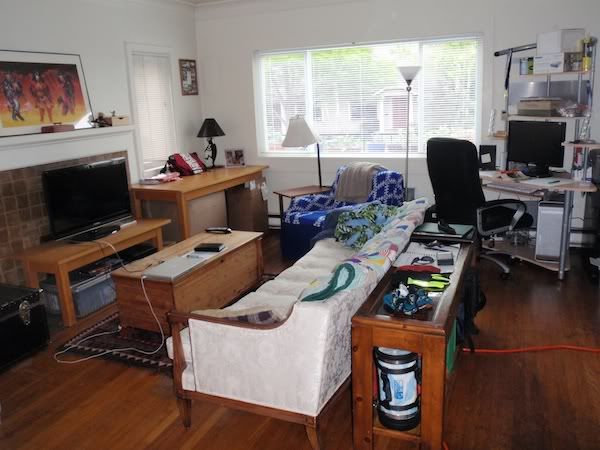 (This shot is from the dining room looking towards the front of the house.  I have a little office corner and our living room has a sweet TV, thanks to my parents, that we watch
Hulu
and
DVDs
on from my laptop.)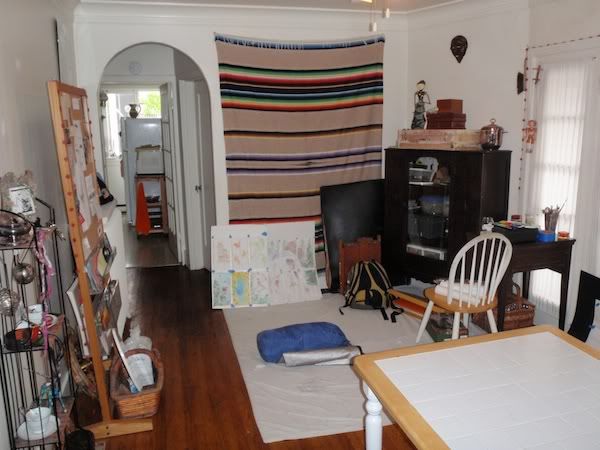 (The dining room/art studio from the living room.)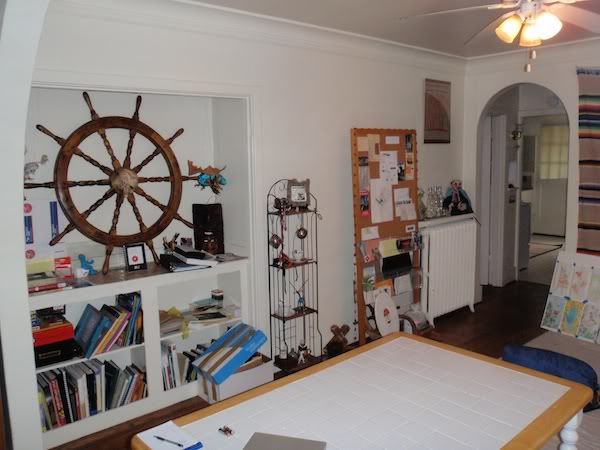 (Our apt. was built in 1929, so the
architecture
is a bit crazy.  Julie found a home for her ships wheel and puppets in one of the nooks.)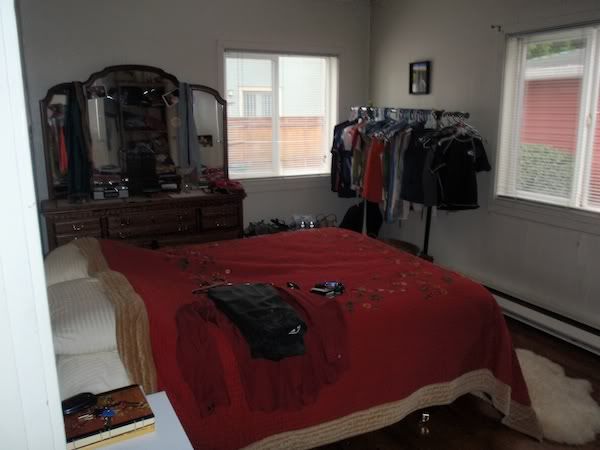 (Our bedroom.  There isn't much closet space in this old apt., and Julie has a lot of clothes!)
(Our kitchen as seen from the back door.  Out of frame on the right is the sink and a wall of
cabinets
.)
(PS:  If anyone has an idea as to why these photos don't show up correctly in the blog please let me know, I've tried everything that I could think of.)