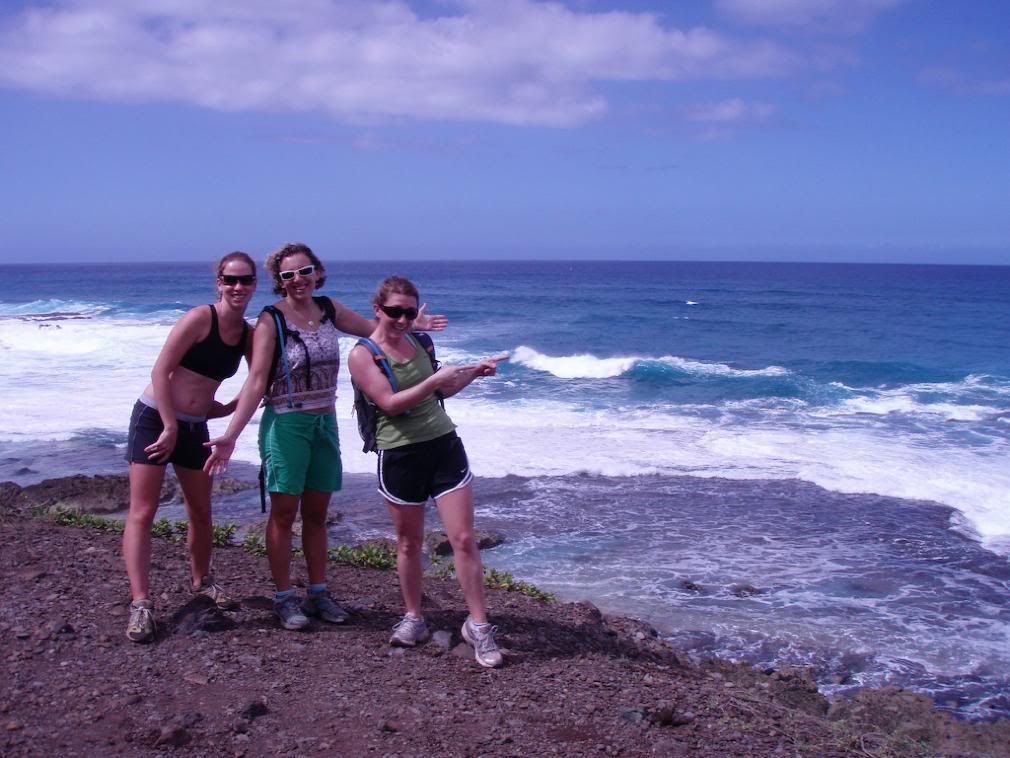 (Shannon, Julie, and Catherine)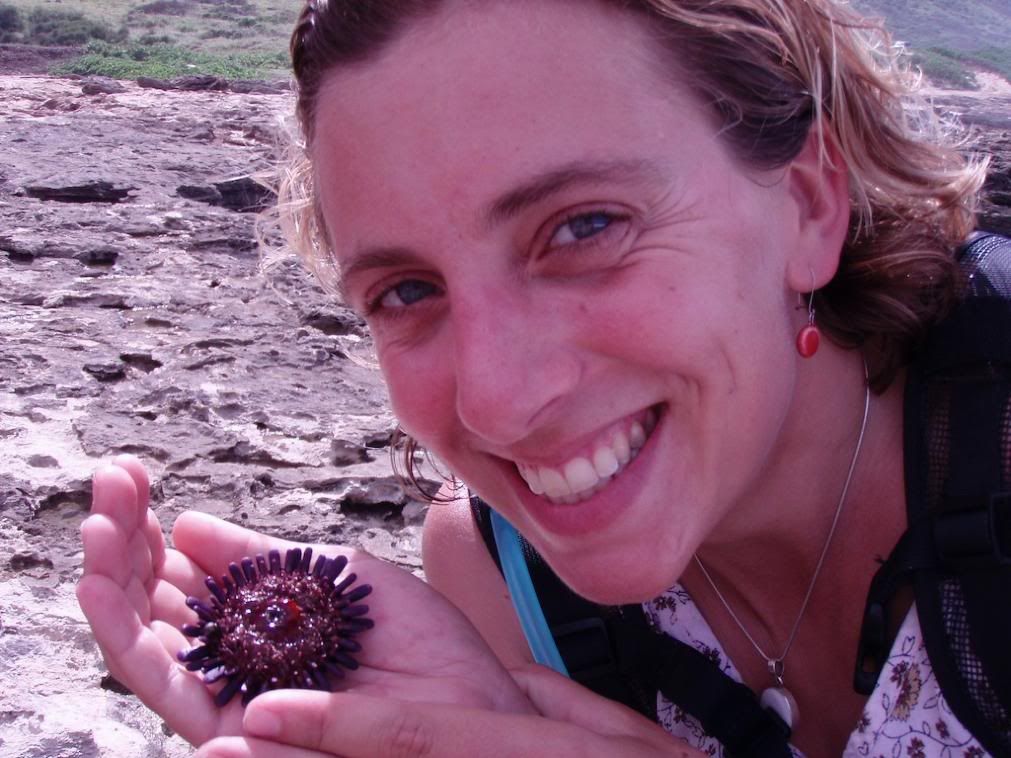 (Julie with a helmet urchin, "Ke'ukeuke")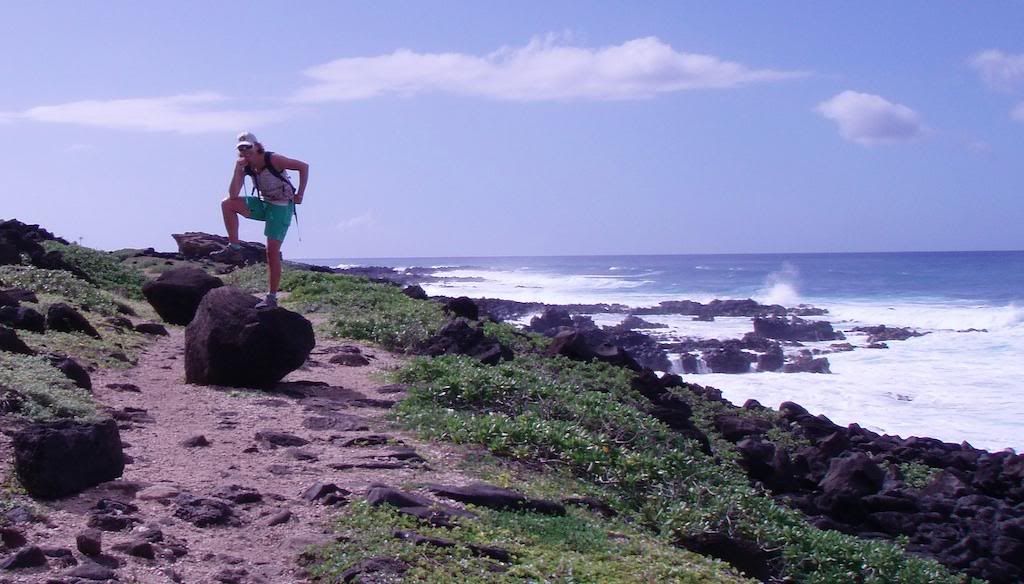 (Julie with a little "Captain" in her.)

(Layson Albatros)
-Julie's Words-
The hike to Keolu Point, the western-most tip of Oahu was enchanting.  I went with my friends Catherine, Shannon and my room mate Aaron.  We did not get a very early start as was originally discussed because we had been out late regaling Kailua with some spectacular Kareoke.  The hike goes along the shore line of the North Shore.  There were some cool waves, but the only surfer I saw was a turtle.  The Ke'ukeuke I am holding in the picture is an urchin that grows on the rocks in the tidal zone, right where the waves are crashing.  I love to pluck them off the rocks and see the glowing purple creature under the helmet.  He reaches out his little tentacles searching for something to hold on to, sometimes my hand.  Don't worry I put him back after the photo op. Urchin Paparazzi that I am.  It happens to be Albatross nesting season and I was eager to get a glimpse of these amazing birds.  We saw many and quite close too!  They are large birds, very gracefull in the air and downright silly looking walking around on land.  Once we got to the point we were rewarded with lots of great whale watching not too far off shore.  There were at least 4 or 5 whales blowing and breaching and doing their humpback whale thing.  Did you know that during the breeding time in Hawaii the mother whales don't eat anything?  The krill, their food does not live in our waters.  After the hike we went out to dinner in Haleiwa town which is the quintessential North Shore Surf town, and the only restaurant were you can get somewhat decent Mexican food on the island.  A beautifull day was had by all.  I wish you were there! 
-Photos provided by Julie this week.-

-Bryon's Words-
A trying week, to say the least. In the end I lived by the motto: "Work Hard, Play Hard." On the work side of this equation I've been doing little to nothing at Land Rover, as customers just aren't coming in. Apparently the current US economics have slowed car purchases to a crawl. I've grown to be impatient about things like this and have been more than a little frustrated at having nothing to do, and having tons of work to be done at home. On that front, I have been working until the wee hours of the morning every day on the Baltimore City Yacht Association DVD for the '07 race season. I should wrap it all up tonight and ship it off in the morning, in order for it to be shown at the Commodor's Ball this Saturday evening in Baltimore.

On the play side of things I got out in the water a little last Thursday, but the winds were just too light to get going on my kiteboard. I've been down to the beach a few times this week with my gear, but the winds have just been to light. Apparently this week was meant for big parties instead of outdoor excursions. Thursday night was again open mic night at one of the local bars in Kailua. Our roommate Aaron can sing and plays a mean guitar. On Saturday night I was talked into a night of Kareoke, at the local bowling ally bar no less! I learned a few things with this excursion: Julie and I can't hold a tune, Aaron & Shanon can sing, and Yeager shots don't go down well after a night of drinking beers. On Monday night we again hosted a big shindig at our place, again with about 20 or so friends. The party just seems to get bigger and crazier each week. This week it ended at around 2 am! It was a good time, but this week I had to work through most of it as the deadline for the BCYA DVD is fast approaching.