Yet another busy week in the life of Bryon. I finished the month strong at Land Rover and managed to make enough money to continue living in HI, and even pay off a bit of my business debt. I'm hopeful that things will continue to go well, as I already made a big sale on the 1st of this month, and I'm working hard every day to make things happen.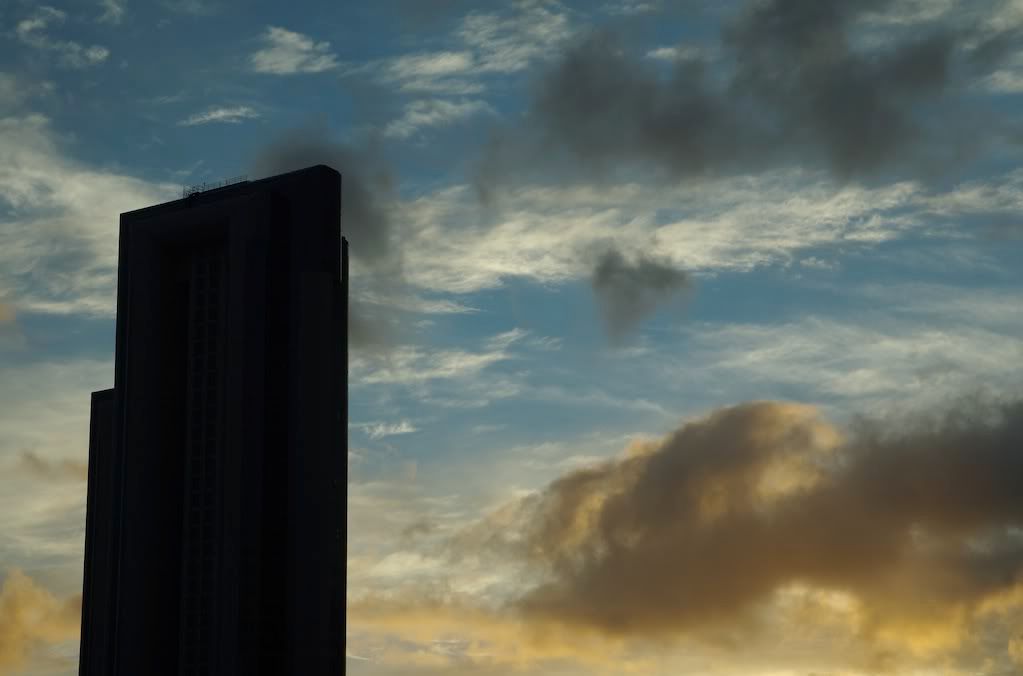 (A typical sunset over Honolulu. I shot this out the window of my car while sitting in traffic.)
Julie had a rough week at work as the weather didn't cooperate very much. It was mostly windy, rainy, and cold the whole week. Conditions not very conducive to kayaking and windsurf lessons. Julie is taking on her new responsibilities as a manager, which is keeping her in the shop quite a bit. She also got to go on a cool hike with one of her new girlfriends this past Sunday.
I've continued to put a lot of energy into Kiteboarding. Going out every chance I get. Thursday was a frustrating day for me, as I just couldn't put everything together. I went out Sunday before the Super Bowl for about 3 hrs on my own and had an amazing breakthrough session. I was able to stay up wind, stay on plane, and execute powered jibes. I got caught in a gusty storm front, but handled the situation fine and had an amazing time going super fast across the water. I can't wait to put more time in out on the water!
The big project for this and next week is the Baltimore City Yacht Association DVD that I'm compiling from all the footage I took from this past years racing season. I just received my computer and got it up and running with all of my editing software and new monitor. I have 21 races to compile onto a DVD with photo face and case sleeve to be shown and sold at the Commodore's ball on the 16th!!! I figure 90+ hrs of work that has to be completed in the next 7 days. I doubt I'll be running, kiting, or sleep much over the next week!
Last night, Monday, we had our weekly house party at our place. It is turning into quite the social gathering with about 20 people stopping by for the festivities. Julie is quite the host, making up a huge taco spread for dinner and organizing all the other food bits that others brought with them. This week the whole house was utilized: the big kitchen table, the bar (of course), darts, foosball, guitar hero, the hot tub, and our roommates amazing musical talents on the guitar. Our friend Umut came over with his motorcycle, a Triumph Daytona 675 sport bike, and I finally got the chance to take it for a spin. I've been itching to ride a bike since I've been in HI, and riding this high end sport bike was a real treat. Someday I might just have to get another one for myself:)
I hope that everyone is staying well. Keep the emails and phone calls coming and don't forget that you can post comments on this blog. Peace…