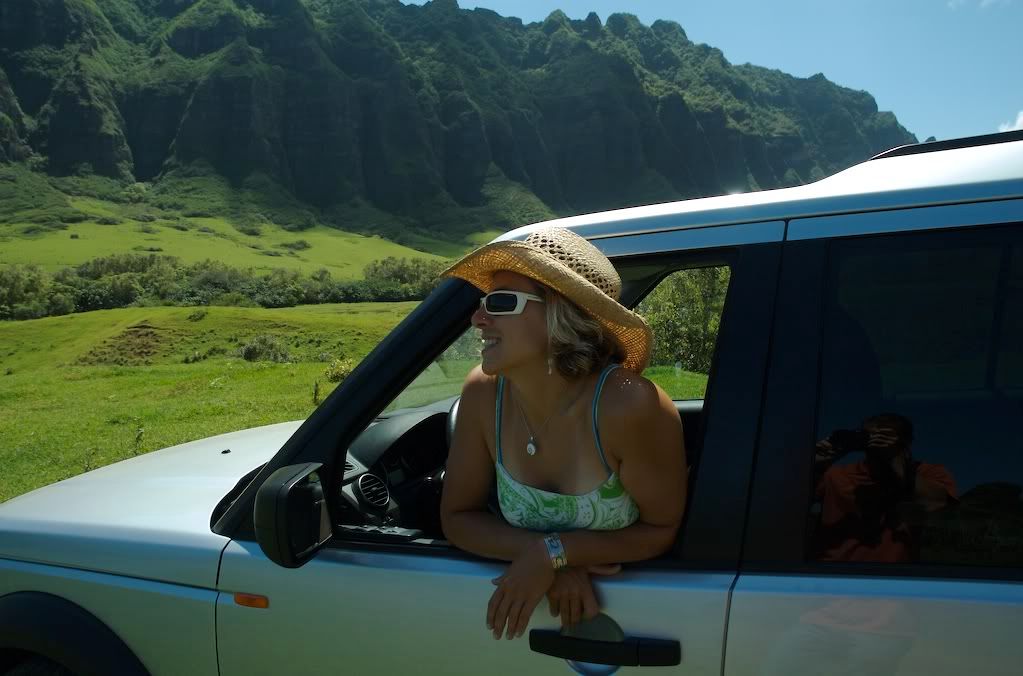 (Julie enjoying her birthday in a Land Rover with her new hat on.)
It has been a really long week here in HI.  Julie and I both worked this past Thursday, our usual day off.  Julie had to put in some extra hours so that she could take some time off next week while Lauren
Honeycut
comes for a visit.  I worked 12+ hr days Thur.-Sat. at the dealership and the Honolulu Car Show.  The dealership has been a ghost town this month and I'm hoping that all my time at the show will result in some sales.
(16 Rovers cruising around Kualoa Ranch)
(A Range Rover having some fun on the obstacle course)
(My loaner LR3 in the valley at Kualoa Ranch)
Sunday was the action packed day of the week.  It was Julie's 28
th
birthday!  I can now call her my old lady:)  We first attended the Land Rover Wheels event at
Kualoa
Ranch, the set location for movies like Jurasic Park, 50 First Dates, Windtalkers, Mighty Joe Young, and many others.  This is a quarterly off road owners event put on by the dealership.  It was a
beautiful
day and it was great fun thrashing a Land Rover in its natural environment.  After the Wheels event Julie got a call to go for a practice sail aboard the boat she has started sailing on Friday evenings out of Waikiki.  I tagged along and had a great time out on the water for a few hours.  I might have to join the crew for a few Friday night races:)  After the sailing we headed over to Hawaii Kai for a birthday dinner at
Kona
Brewing Company.  We had a group of about 11 people for a big dinner and some quality micro brew.  We were exhausted after the long day and went home to pass out, at about 10pm.  I know, sad isn't it.  Oh, I forgot, Julie was asleep within 5 min. of leaving the
restaurant
:)
The last few days I've been really sick actually.  My throat is all messed up.  I passed out on the couch last night and didn't wake up to go to bed until about 2:30am, hence the reason this blog entry is a day late.  Hopefully everyone else is doing better than I.  Keep in touch. Peace...
(This is the Mercedes, the yacht that we took out whale watching a few weeks ago.)
-(Just realized that I didn't put up a post last week!  Sorry about that.  I've been in a bit of a funk here lately.  Besides a drive around the North Shore looking for surf, not finding any, and taking Julie shopping on Thursday the 28th there wasn't much to report.)-