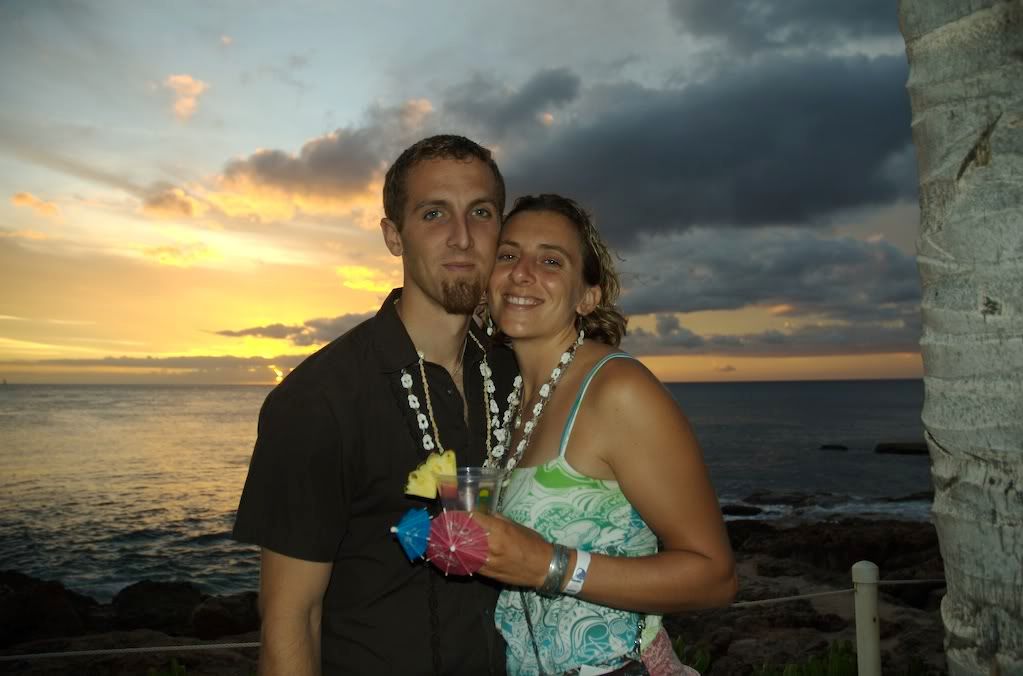 (Bryon and Julie enjoying the sunset at the Paradise Cove Luau.)
Lauren had an exciting week and got to explore the entire island.  She literally saw every major part of the island in one week!  She got to explore and shop on the North Shore, go to the weekly swap meet, snorkel at
Hanuma
bay, explore Waikiki, Honolulu, and
Kailua
.  She also got plenty of beach time on all sides of the island.  One of the big events for the week was the Luau at Paradise Cove in
Koalina
.  She also got to experience all our local friends in their full bowling glory.
Besides the great times with Lauren over this past week their really isn't a whole lot to report.  I'm still fighting of some sort of illness, but its getting better.  I'm also still dealing with my foot injury, as it doesn't seem to be healing properly.  Hopefully the antibiotics the doctor put me on yesterday will do the trick.  Sales have been really slow at Land Rover, but I'm hanging in there.  I've been out
kiteboarding
a bit, but the winds have been on the low side of good, and gusty.
You should also check out this cool website (www.riversindemand.com) from my old paddling buddy Andy Maser.  I only dream of adventures on this magnitude.  Maybe someday... I'm just happy to hear that he made it safely through Tibet during the recent political uprising in the region.
(Lauren and Julie get into the hula under a Hawaiian sunset.)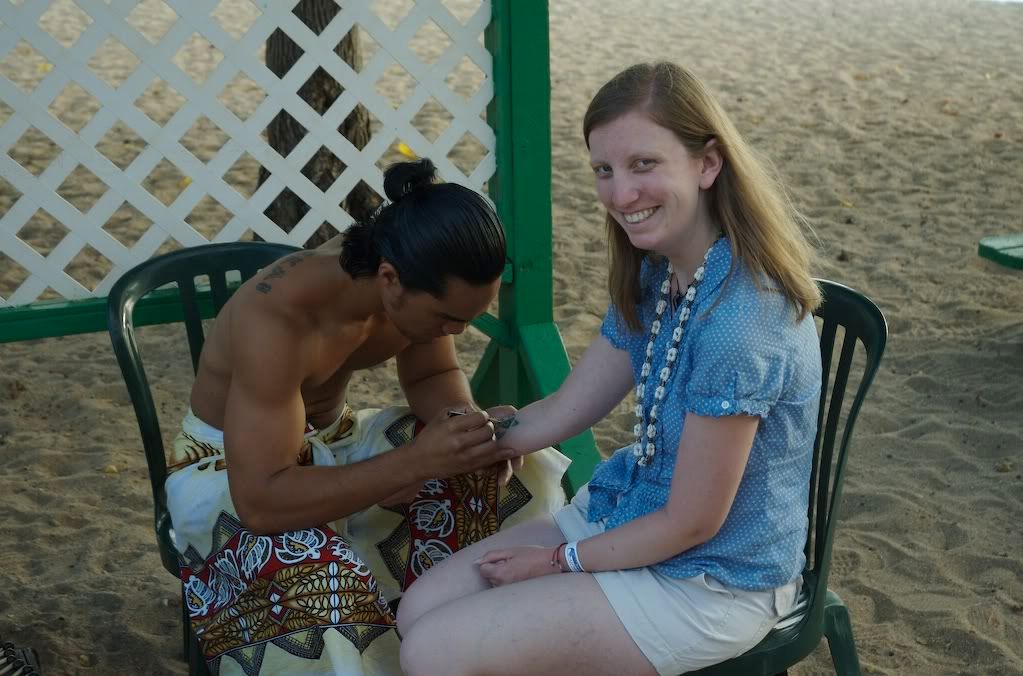 (Lauren gets a Hawaiian "tattoo" from a local
hottie
.)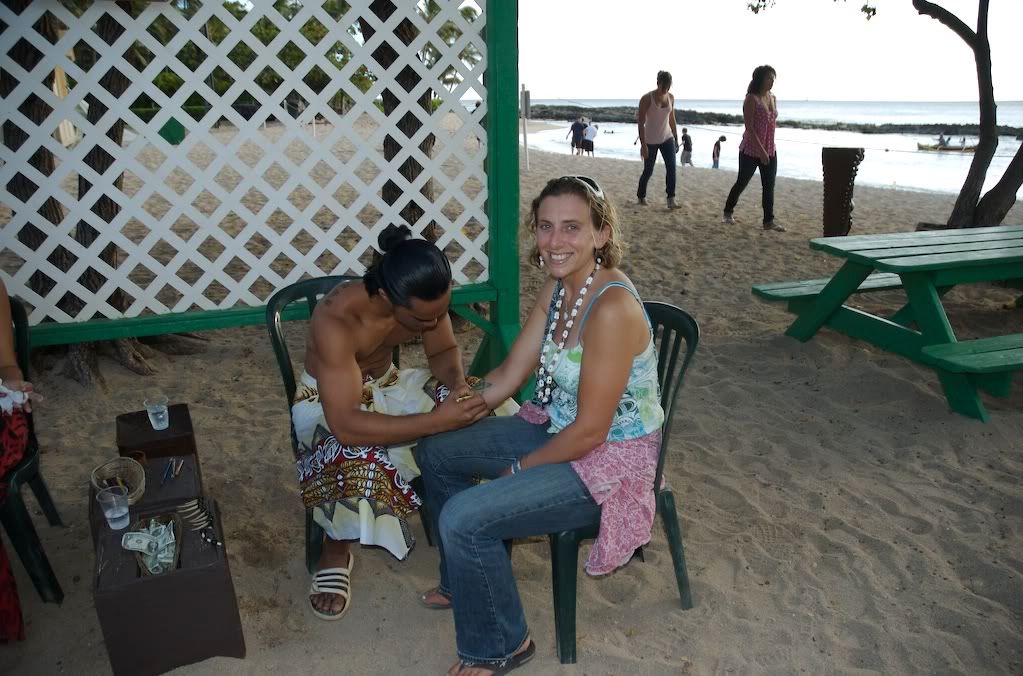 (Julie enjoys the local "culture".)
(Lauren and Julie looking cute with the local flowers.)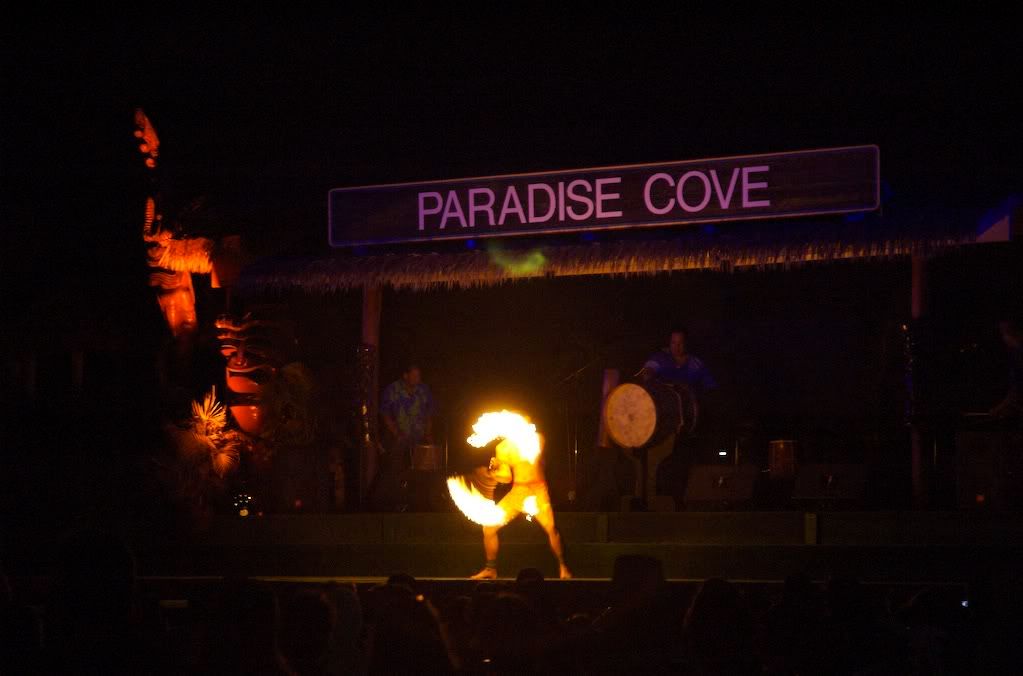 (The fire dancing at Paradise Cove was spectacular.)
Julie and I are both missing our friends and family back in Baltimore.  Lauren brought a little bit of home with her when she came out for a visit.  Please be sure to keep in touch.
PS- Everytime someone comes for a visit they bring lots of wind with them.  What I'm saying is that you all need to come visit so that I can get out kiteboarding more:)