(
Kailua
from the air, you can see the
Mokalua
Islands just off
Laniki
Beach)
It has been a crazy week.  I've been running a ton
prepping
for the Portland Marathon in two weeks, Oct. 5
th
.  I managed a 20 mile run yesterday in exactly 3 hrs, a 9 min/mile pace.  Low water has kept me off the rivers and it seems that the wind only blows when I'm leaving town, so no
kiteboarding
.
On the job front there is very little to report.  I'm working on three part time jobs now, more on that next week.  The one I worked a bunch early this past week was the
Skagen
watch merchandising job.  In two days I spent over 12 hrs at 6 different Macy's stores in the greater Portland area.  I'm still looking for that career move and will be working even more this week to really focus my energies on getting something to happen ASAP.
The big news, and craziness over this past week was a very last minute trip to HI.  I bought a ticket at 4 am Thursday and was in HI at 3:30 that afternoon.  I just got back into town this morning from a wonderful few days with Julie.  I figured out a few months ago that I had made a huge mistake leaving her in HI back in June.  I needed to see her in person and show her just how much I love and miss her in my life.  Julie and I have an amazing friendship and a love for one another that is extremely rare.  We have committed to each other to work things out and find a way to be together in the future.
Julie is racing in the 6 man outrigger canoe race from
Molaki
to Oahu this weekend.  I wish her and her team a safe and speedy crossing of this grueling and challenging channel.  I'm so proud of the huge amount of work and effort that Julie has put into this amazing
endeavour
.
My Grandma
Devol
is in my thoughts everyday.  Her health is not getting any better and she is back in hospice care after another trip to the hospital this week.  Please keep her in your prayers.
My sister Nicole is expecting her first child within the next two weeks.  She seems to be doing well with all of it and I wish her the best.  It is crazy that I'm going to be an Uncle!
Please keep in touch, as you can see I've been busy!  Please also keep me in the loop if you know of any job opportunities.  I moved into an apartment near Portland today with a paddling friend,
EJ
Etherington
, but can still move anywhere for the right career move.
(Honolulu Airport)

(Julie ready to tackle the Coco Head Hike)

(Julie and Bryon happy together again)

(Hawaii Kai and Honolulu with some rain rolling through, from atop Coco Head)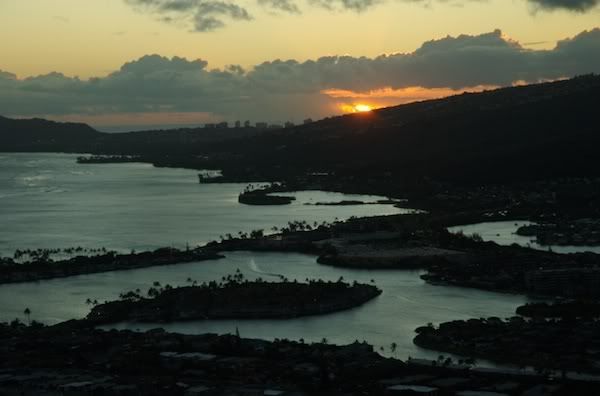 (Sunset over Hawaii Kai from atop Coco Head)

(Julie
prepping
the paint for another outrigger canoe)
(Julie spraying in the first colored gel coat)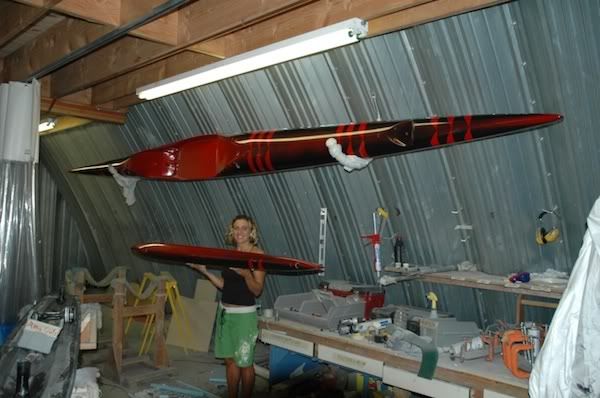 (Julie showing off one of her creative masterpieces)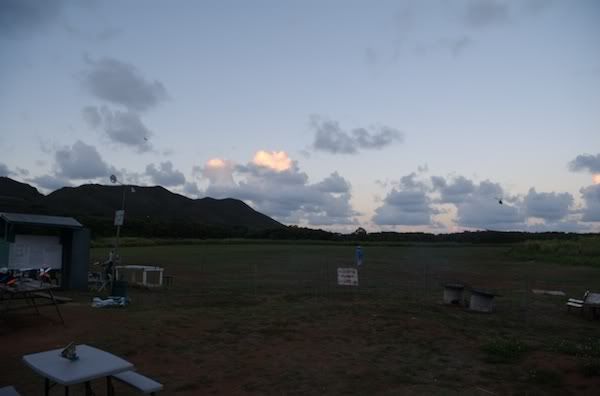 (I got to check out some serious RC airplane and helicopter enthusiasts in
Kailua
)